The Learning Journey experience includes expert-led demonstrations, group discussions, hands-on activities, and local organic meals in the unparalleled setting of Paicines Ranch. The primary components of the agenda include:
1. Soil Ecology and Photosynthesis
We lay a foundation for understanding how regenerating soil using the power of photosynthesis is the fastest way to increase diversity and ecosystem health, drawdown carbon out of the atmosphere, increase water holding capacity, decrease soil temperature, stabilize the climate, and grow a resilient food system. We will discuss our practical understanding of:
The role of mycorrhizal fungi, bacteria, and other microbes in sequestering carbon
Increasing soil nutrient availability and plant health
Increasing nutrient density of crops
Increasing resilience of soil in an unpredictable climate
Reducing off farm fertility inputs by optimizing photosynthesis
Principles and applications to support stable soil carbon sequestration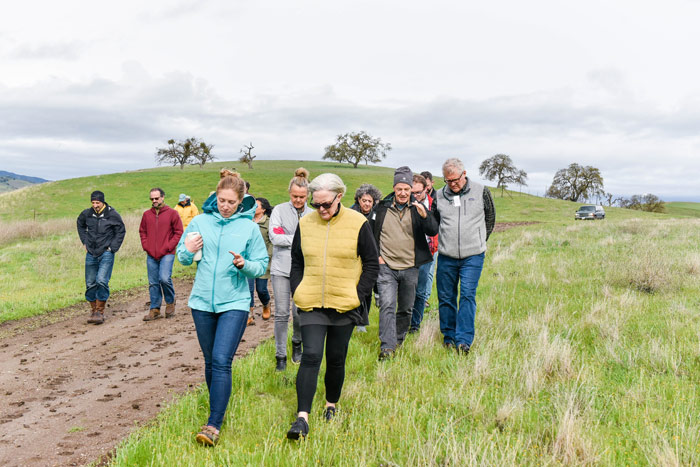 2. #NoRegrets Initiative Regenerative Asset Management Strategy
This relationship-centered approach to land and asset management deploys human, ecological and financial capital toward soil health and its effect on climate change. We will present our vision of a world in which all agricultural ecosystems are managed for health, diversity and long-term sustainability. Incorporating what we will have just learned on the land at Paicines, we will use case studies and discussions to show how to incorporate regenerative principles into decision-making for grants and investments. By weaving in these examples of this strategy at work throughout the agenda, we will provide a practical understanding of the questions we ask and the decision-making framework we use to support the farmers, ranchers and organizations who are stewarding our lands.
3. Regenerative Agricultural Principles in Practice at Paicines Ranch
Regenerative Farming Practices:
Paicines Ranch has 600 acres of diversified cropland integrating livestock grazing that is designed to treat soil as a complex living entity managed for maximum health. A field tour will compare previous management of an industrial organic agricultural system to one that is in transition to a biological-based agricultural system. Using simple monitoring devices, we will look at water infiltration, plant diversity, soil structure, soil temperature, and nutrient density.
Holistically Managed Rangeland:
Paicines Ranch has 7,000 acres of rangeland managed to encourage biological diversity with multiple ecological and economic benefits including livestock for grazing/browsing, fiber, meat, and offspring; and plants for food, forage, shade, windbreak, deep nutrient cycling and carbon sequestration, and habitat for insects and wildlife. A field tour on the rangeland will allow participants to observe the outcomes of managing to improve ecosystem health, including water cycle, mineral cycle, diversity, and energy flow.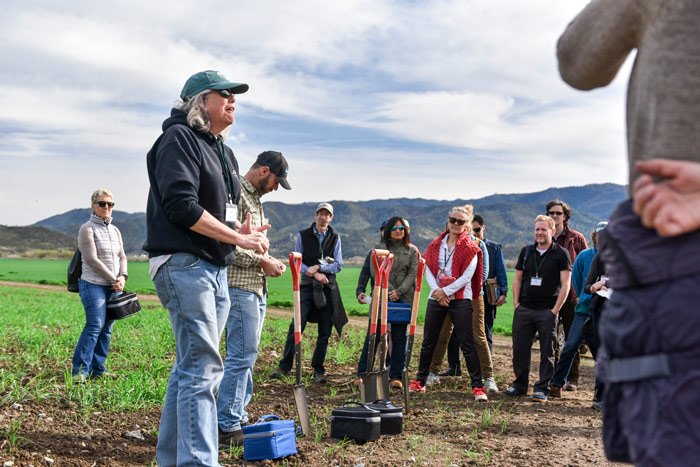 From Design to Vine to Ovine to Wine - A Polyculture Vineyard:
We will demonstrate what intentional design looks like by touring a diverse, perennial-based vineyard system that is designed to be managed by sheep to address multiple functions. These functions inclue nutrient cycling, vegetation control, suckering, pest suppression, and successional development of plants and soils.
4. Unstructured Time to Network & Socialize
One of our goals is that you will come away from this gathering with a new community of peers to connect, collaborate, and find partnership with. With that in mind, we will carve out unstructured time throughout the agenda for networking, socializing and relaxed conversation as you get to know your peers.